The Malhotra family flat is a luxury multi-million dollar flat located in Mumbai ,
Ten Juhu Beach
.
Mrs. Raheja
is the head of the condo board and she allows does not animals at first and does not like
Sri Premchand
, but later lets her live there. It has many ammenities including their own screening roo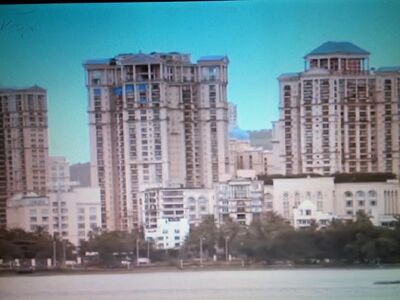 m, Butler's quarters where
Tony
's room is and a panic room.
Idea for the show
Edit
The Tower At Ten Juhu Beach was a very similar building for the idea of the show. They made a replica of the building and animated it.
Malhotra Flat (Apartment)
Edit
The Rooms
Edit
Living Room- Main room of the Penthouse. This room has an elevator leading into it, as well as many paths to different rooms.
Terrace- Located outside the living room. Outdoor porch with a ledge where things can easily fall onto lower terraces or even the streets of New York.
Screening Room- Usually the place where people watch T.V. or Movies, instead of the Living Room.
Jessie's Room- The room where Jessie sleeps.
Emma's Room- The room where Emma sleeps.
Luke's Room- The room where Luke sleeps. Usually isn't very tidy.
Ravi's Room- The room where Ravi sleeps. This room also includes a playground for Mrs. Kipling.
Zuri's Room- The room where Zuri sleeps.
Bertram's Room- The room where Bertram sleeps. The room used to be very messy and closed in, but is now more neat and open, thanks to the help of the Ross kids.
Guest Room (mentioned only)
Numerous Bathrooms
Dining Room/Kitchen- The place where the family eats. Bertram is usually in this room.
Morgan & Christina's Bedroom
Wall Crossways
Panic Room- Room hidden under the stairs, usually where you hide incase of an emergency. You need a password to get out. This room also has a security system of the house.
Jadeja Apartment
Edit